From traditional to modern, small spaces or large, we work with you to design a new custom home or renovate your existing home to fit your needs and meet your budget.
Custom Home Design
Inspiration for designing a home comes from many places.  Where the sun falls throughout the day or a picturesque view can inspire design.
Most importantly, inspiration comes from our clients.  Their dream home should reflect their personality and passions.  From traditional to modern, small spaces or large, we work with you to design a home that fits your needs and meets your budget.
Listening means getting to the bottom of what a client really wants.  The idea of "modern" may mean something completely different to different people. We encourage our clients to share photos with us, so we can understand their vision and turn it into something that exceeds their expectations. We want to match your dreams with reality and create a space that truly does improve your life.
Sound design is not only about finding the perfect proportion but about completing a project on time and within budget. When it comes to our clients, our goal is more than to design a beautiful home or building, we want to educate our clients throughout the process, become trusted confidantes and truly improve our clients' lives through design.
Additions & Renovations
Whether you want to create an open floor plan, expand your living space, add a new second-floor level, or raise your home, we provide a practical approach during the design process.
Our intent is to create a finished product that blends the new with the old to create a harmonious design.  We want the final product to feel like it was there from the beginning.
---
HOUSE LIFTS: After Hurricane Sandy, many homeowners found themselves revisiting flood zone requirements.  Whether you've suffered the devastation of a hurricane or are thinking about the future of your home, we can raise your home and help you navigate the complexities of the zoning and permit process.
Recent 

Residential Projects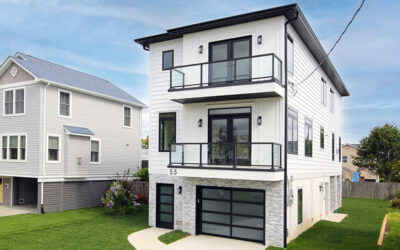 Modern Custom Home by the Shore! 2200SF custom new construction home in Long Branch NJ ...with...
read more